Contact Henderson County CTA
P.O. Box 352
Hendersonville, NC 28793
2018 Executive Board
Sheri Sparks & Lynn Gilpin, Co-Presidents
Jan Partin
Linda Cheshire, Secretary, pt4252@att.net
Bill Touchstone, Treasurer
Winner of 2009 USTA "Special Tennis Event of the Year Given in Honor of Bev Earle"
The HC-CTA sponsored Quickstart mixers for the kids – one Saturday we had enough rain to ruin the courts. Everyone waited but it kept misting rain! HC-CTA volunteers, Mike Baer, Pete Landry, Larry Formichella, Carol Rosner and Bevie Walker set up the mini-nets on the Jackson Park rough parking lot surface. All 25 kids, volunteers and parents played QuickStart tennis with foam balls for two hours and no one wanted to quit. We shared a great lesson that day.
Beginner Adult Lessons are offered indoors during winter months (date & times to be decided)
Continuing Seasonal Events
Friday Night Adult Tennis Mixer – Jackson Park This is to encourage fun/social tennis within the community and to also collect food for the local food bank. This is an Adult Mixer and all levels of play are invited to attend. Please come join in the fun of tennis. Invite a friend. And bring a item or two of non-perishable food to help combat hunger within our community. See flyer for more info.
Friday Night Adult Mixers start May 9 at 6 pm at Jackson Park and run every 2nd and 4th Friday of each month. The final mixer scheduled Friday, October 31 will be the "Halloween Hoot".
*Entry fee for Friday Night Adult Mixer is a can of food (play tennis and help your community at the same time) to be donated at the end of the year to a local food bank. Must be 18 years old to participate in adult mixer.
Junior Mixers – Intermediate and Advanced Juniors (13 – 17 years of age) are invited to play a Junior Mixer at Jackson Park on the 2nd and 4th Friday of each month. These mixers will be coordinated by a volunteer from the HC-CTA and play will be separate from the adult mixer.
*Entry fee is a can of food to be donated to local food bank at the end of the year.
Saturday Morning Ladies – The program is currently on-hold.  The CTA is currently looking for a volunteer coordinator to run this program.  For information, please contact Bevie at bevstan@tds.net.
Congratulations to the following winners of the 2017 Apple Open Tennis Tournament:
MEN SINGLES
open singles – Dylan Jicha
3.5  singles – Jeremy Gregory
4.0 singles – James Wilson
4.5 singles – Scott  Murray
WOMEN SINGLES
3.0 – Fran Clawson
3.5 – Amy Lee
4.0 – Pam Muncy
MEN 50 SINGLES
3.0 – Mark Cartier
3.5 – Brian  Johnson
WOMEN 50 SINGLES
3.0 – Suzanne Spaziani
MIXED DOUBLES 50'S
7.0 – Susan Hoffman / Brian Johnson
8.0 – Donna Wormser / Henner  Lenhardt
MIXED DOUBLES
6.0 – Tracey Loughlin – Young / Troy Young
7.0 – Alexandra Lozowski / Jeff Liebert
8.0 – Trey Ambrose / Cindy Durkin
MEN DOUBLES
Open – Dylan Jicha / Patrick Vernon
3.5 – James Williams / Chris Williamson
4.0 – Marc Parker / James Wilson
WOMEN DOUBLES
3.0 – Gay  Anderson / Alexandria Lozowski
3.5 – Laura Plyler / Misty Wise
4.0 – Katie Bradley / Jill Parsons – Miller
MEN DOUBLES 50'S
3.0 – Kenneth Joyce / Charles Wood
3.5 – David Powell / Keith Smith
4.0 – Charles Brock / Richard Wiener
WOMEN DOUBLES 50's
3.5 – Claudia Gavin / Patti  Griffith
4.0 – Lynda Camenzind / Susan Flynn
4.5 – Susan Flynn  / Linda Grubbs
Thanks to the following sponsors of our 2017 Apple Open Tennis Tournament:
Entegra
Southern Alarm
Cooper Construction
Horizon Heating and Air Conditioning
Publix
Walmart
Sams
Rodney & Sheri Sparks
Barbara Patton
Home Credit
Hillside Nursery
In Kind:
Care Solutions
Subway of Horse Shoe
Subway of Flat Rock
Joey's Bagels
Stepp Orchards
Sky Top Orchards
Hot Dog World
Raffle Basket Sponsors:
Carolina Reserve at Laurel Park
Hendersonville Racquet Club
Lynn Gilpin
A special thank you to all the volunteers who gave time and talent to the Apple Open Tennis Tournament, before, during and after:
Ron and Jan Partin, Dan Ritter, Harry Hudson, Traci McConnell, Pat McClurkin, Lisa Burleson, Chuck Breckheimer, Sandy and Bob Denekamp, Diane Jacqmin, Linda Perkel, Nancy Varner, Lynn Gilpin, Barb Patton, Jodie Harrison, Diane Jetton, Connie Babcock, Pat and Gary Bowen, Barbara Weinland, Linda Nash, Carol Rosner, Pam Zapata, Dick Carter, Jean Patteson, Linda Cheshire, Bill Touchstone, Cindy Neal, Sheri Sparks, Jan & Dave Powell, Dan Lang, Peter Cornish, Bud Cohoon, Mary Lynn Yost, Vicki Bell, Wilhelmina Carter, Rod Patteson and Rodney Sparks, Tournament Director
Henderson County CTA News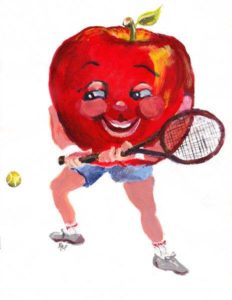 2018 Apple Open
The Apple Open arrives September 14 -16, 2018. For information on levels of play and registration information, click here.
---
Winter Indoor Tennis
Winter Indoor Tennis program information will be out soon for January, February and March 2019.
---
Good news!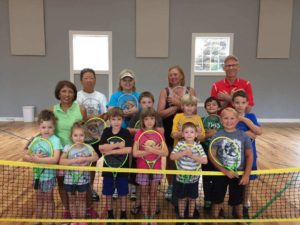 Healthy Kids Day – sponsored by Hendersonville YMCA – HC-CTA volunteers and pros Dylan Jicha and Bobby Garrett provided fun and information to approximately 50 kids who participated during the event.
Mud Creek Church Camp – HC-CTA volunteers (Terrell West, Sheri Sparks, Carol Rosner, Lynn Gilpin), along with WNC USTA Local League Coordinator and Assistant Coordinator (Bevie Walker and Barb Patton), helped introduce tennis to children at the camp.
Two summer tennis instruction sessions were held at Jackson Park was held for beginnner children, more programs are planned at Jackson Park, check the Henderson County Parks & Recreation website for application and details.
Salvation Army Day Camp – HC-CTA held an interactive instructional tennis demo for 40 kids at the Camp. Dylan Jicha, pro from Hendersonville Racquet Club instructed the kids, with help from HC-CTA volunteers: Bill Johnson, Lynn Gilpin, Sheri Sparks and Linda Cheshire.
Coming Soon: HC-CTA & Community Foundation Scholarship for college bound high school tennis players. Watch for details.
---
"Life is not about waiting for the sun to shine, it is playing in the rain!"