USTA TOURNAMENTS
Check out all the upcoming USTA sanctioned adult & junior tournaments in WNC – City of Asheville Open Tennis Championships, Banana Open, Apple Open, Country Club of Asheville Summer Classic Junior Tournament – go to NC TENNIS, click on tournaments and search by name.
The Try Tennis program from USTA-NC is a continuing success! Successful clinics were held in Western NC at Brevard Health & Racquet Club; Etowah Valley Tennis Club; Hendersonville Racquet Club and Aston Park Tennis Center. Players from the Try Tennis programs are now participating in USTA Leagues! Aston Park has another program starting soon. See information below: […]
Terrell West, Carol Rosner and Bevie Walker introduced tennis to the summer campers at Mud Creek Baptist Church in Hendersonville, NC the week of July 16. Sharing their time and talent were volunteers Helen Goldberg, Heidi Hendrix, Mary Ray and Patti Griffith on individual days to make the week lots of fun! The fifteen day campers spent two hours on each day skills and playing tennis. The pictures below tell the story. Monday was start up and Friday was "game, set, match". […]
Congratulations to our WNC Mixed Doubles Tennis League Champions!
18 and over
6.0 – Rebecca Carchman, captain – Aston Park Tennis Center
7.0 – Andrea Smith, captain – Brevard Racquet Club
8.0 – Dave Hartsock, captain – Brevard Racquet Club
9.0 – Meghan Howard, captain – team represented WNC in Pinehurst Qualification League
Southern Combo Doubles Leagues start soon! If you want to play on a team, or need players for your team, contact Bevie for help. Players may be added to team rosters until September 30.
Western NC has lots of tennis fun! Check out the local tournaments, state and regional competitions in our area. Get involved – play, volunteer or just come watch the […]
University of Central Florida's Korey Lovett, former Brevard High standout, advanced to the Round of 32 at the NCAA Singles Championships in Athens, Ga.
---
Congratulations to the Brevard High School Doubles Team of Liam Baer and Cam Wilson – State Champs! Read the Times-News article for more information.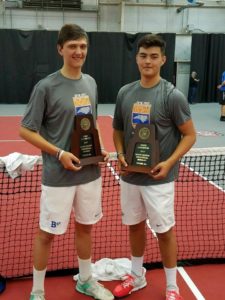 JOIN OUR NEWSLETTER
Join the WNC Tennis email list.
You will receive updates including league, tournament, and event information.